The HITOWA Group operates nursing care facilities and childcare facilities. The connections between these facilities and their surrounding communities, including local governments, are vitally important. The facilities relate closely to the community, and we conduct a wide range of support activities to enrich the lives of all senior citizens and children, not just the residents of our nursing care facilities and the children in our childcare facilities.
We also offer services that help families and households, such as at-home acupuncture, moxibustion, massage services, and house cleaning. As such, we engage in activities which connect families and communities.
Children's Cafeterias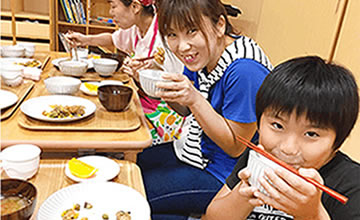 HITOWA Kids Life provides spaces where people can eat together by operating "children's cafeterias" for children who otherwise would have to eat dinner alone and parents with children who would like to eat with others.
For example, the children's cafeteria at Taiyo-no-ko Higashi Ooizumi Nursery School serves nutritionally balanced meals made by nutritionists and provides a wide range of play tools, such as picture books, toys, and games. The children who come can play to their heart's content in the spacious cafeteria. It has also set up a system that lets parents with concerns consult with the nursery school principal, chiefs, and childcare staff.
Community Monitoring Activities in Kanagawa Prefecture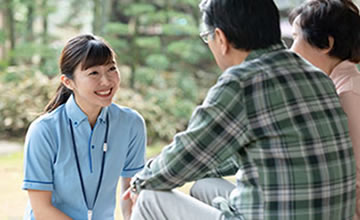 HITOWA Life Partner takes part in the community monitoring activities being conducted by Kanagawa Prefecture.
Kanagawa aims to create a society in which everyone can live with peace of mind, without becoming isolated. To achieve this, it is creating a system for identifying households with elderly members at risks, such as of unattended or solitary death, without delay.
When a HITOWA Life Partner staff member visits a customer's home to provide at-home acupuncture, moxibustion, or massage services, if they discover anything unusual that leads them to think the customer's life may be at risk, they promptly coordinate with the local government, police department, and fire department.
Tokyo's "Heart Barrier Free"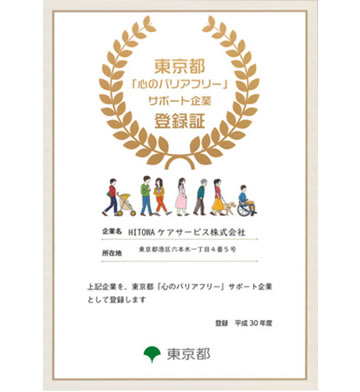 HITOWA Care Service is certified as Tokyo's "Heart Barrier Free" support company. Through the "Heart Barrier Free" program, Tokyo is advocating the elimination of social and environmental barriers with the aim of promoting the development of communities where everyone can move freely and enjoy a wide range of activities.
HITOWA Care Service is collaborating with the Kokyo Gaien National Garden, which also has "Heart Barrier Free" certification, to conduct activities such as offering "Kokyo Gaien Walking Tours."
Supporting Mothers Taking Care of Children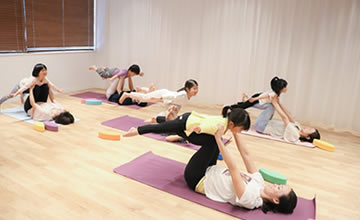 HITOWA Kids Life wants to prevent isolation among parents who are taking care of children and to help alleviate their concerns regarding childcare and physical and emotional issues. That is why it holds picture book and English play events that are open to families with small children that are not attending nursery school. These events connect local families with small children to our nursery schools, and to each other. In addition to fostering communication between families, HITOWA Kids Life has also set up a system that lets parents with concerns regarding childcare consult with nursery school principals, chiefs, and childcare staff.
It is also partnering with the hot yoga studio LAVA International, Inc. to hold both online and offline parent-and-child yoga classes.
Our parent-and-child yoga programs, which are open to both families with children attending our nursery schools and families from the nearby community that do not attend our nursery schools, refresh parents both physically and mentally, and help them form even stronger bonds with their babies. In addition to these programs, we also set aside time for communications between parents and provide opportunities for interaction between families with children.
Community Connection Event Packs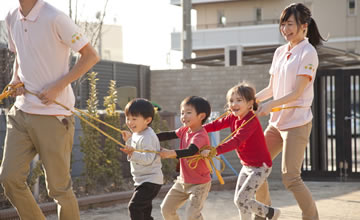 HITOWA Kids Life provides "Community Connection Event Packs" to facilities other than nursery schools and other similar facilities of HITOWA that assist with childcare. Our goal is to promote the widespread implementation of measures that support families whose children do not attend nursery school, and which are therefore prone to becoming isolated. The social environment is changing: the birth rate is falling, nuclear families are becoming increasingly prevalent, community ties are growing weaker, etc. The process of raising children is becoming a more isolated one, with people finding themselves without anyone in the local community to consult with.
Considering this social background, HITOWA Kids Life, as an operator that promotes childcare support, has been engaging in activities to give support in preventing the isolation of women who are raising children by fostering connections between nursery schools and families with children in the local community, and by connecting those families with other families in similar situations. However, there are areas that we cannot reach through our own facilities alone. We provide "Community Connection Event Packs" to childcare support facilities other than HITOWA facilities so that these community connectivity initiatives can be further enriched and reach even more families.