Led by the corporate philosophy of the HITOWA Group, each and every person acts in accordance with our principles, laws, and regulations, striving to contribute to society.
Thorough Promotion of Our Principles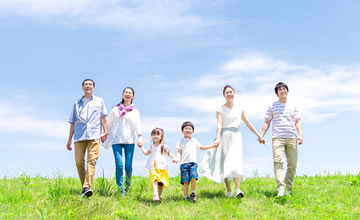 In order to realize our corporate philosophy of "constantly creating new value that supports families and lifestyles as we provide high levels of satisfaction and moving experiences," the HITOWA Group has formulated the following three principles that define the ideals and actions of a member of the HITOWA family.
Solving social issues
Acting quickly and precisely
Earning the trust of society
We conduct various initiatives to ensure that every member of the HITOWA Group embodies these principles, such as sharing stories of employees' experiences and messages from top management throughout the Group.
Employee Awareness Survey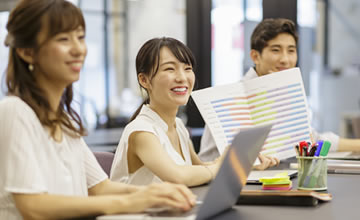 The HITOWA Group conducts a regular employee awareness survey called "HITOnoWA action." HITOnoWA action provides an understanding of what employees find motivating and rewarding in their work, and what challenges they face. The results of the survey are shared with employees. Based on the survey results, we create and implement improvement plans at the company, division, and business site level with the aim of raising employee satisfaction.
The HITOWA Group strives to provide customers with high quality services and be a company that meets the needs of society by increasing employee satisfaction.
General Meeting of Employees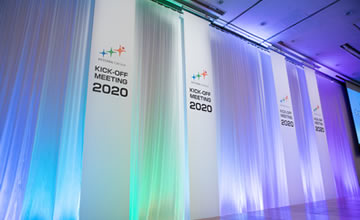 The HITOWA Group conducts General Meetings of Employees at the Group as a whole as well as at each of our Group companies with the aims of sharing the Group's business policies, strategies, and vision, increasing employee engagement, and fostering a greater sense of unity.
Management personnel and employees assemble in these meetings to share ideas and deepen their mutual understanding through speeches from top management, presentations from employees, awards ceremonies, and social gatherings.
Due to the spread of COVID-19 from 2020 onward, we now share video content and conduct General Meetings of Employees online.
Awards and Contests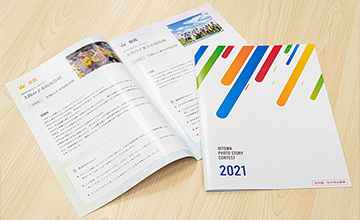 The employees of the HITOWA Group conduct business activities in the areas of nursing care, childcare, lifestyle support, catering, and special subsidiary operations. The goal of these business activities is to provide customers high levels of satisfaction and moving experiences, as formulated in our corporate philosophy. Each and every employee observes our principles and puts them into practice every day. We present awards and hold contests to promote and recognize actions and initiatives in these business activities that serve as examples to other employees in the Group and Group companies.
HITOWA Group (Photo Story Contest)
We accept submissions from all employees of works that are made up of photographs and stories, which embody our corporate philosophy and principles. A team of judges, consisting of executives and employee representatives, select the winning submissions.
On HITOWA Day, the winning works are announced, providing an opportunity to deepen mutual understanding between Group companies and to think about the Group's future.
HITOWA Life Partner
Once a year, we hold a General Meeting of Employees, at which we present awards such as the Long Service Award, the Newcomer Award, and the Department Excellence Award. We also present unique awards such as the Thank You Award.
HITOWA Care Service
Once a year, at Irise, our nationwide chain of nursing care facilities, we hold "IRISE PRIDE," a General Meeting of Employees, at which we make announcements about situations in nursing care sites and present awards. In the past, we have also held H1 Grand Prix contests between Irise locations nationwide.
HITOWA Food Service
Once a year, we hold a General Meeting of Chiefs, attended by chiefs from our business sites nationwide. Awards are presented to exceptional business sites, and there are also Exceptional AP Awards for part-time employees.
We also hold irregularly scheduled contests within the company. These have included a recipe contest and a "Put a Smile on Customers' Faces Contest," in which employees submitted non-food-related ideas for how to put smiles on customers' faces.
HITOWA Day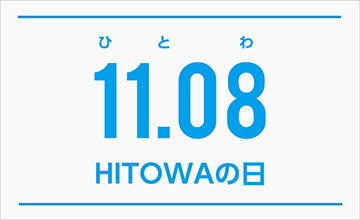 All employees of the HITOWA Group cherish the HITOWA name, and since 2017, November 8 has been designated as "HITOWA Day." This day was selected as a play on words, as "1108" can be pronounced "hitowa" in Japanese. On HITOWA Day, employees think about the future of HITOWA and express their heartfelt gratitude to the residents of the HITOWA Group's nursing care facilities, the children in its childcare facilities, and the users of its services.
Every year, the Group and its companies carry out various activities. In 2021, the Group held a Photo Story Contest with the theme of "high levels of satisfaction and moving experiences," as formulated in our corporate philosophy.
Residents of Irise nursing care facilities nationwide were served special HITOWA Day menus. At Taiyo-no-ko and Warabeuta nursery schools, fun activities were held with the themes of "Circles" ("circle" is "wa" in Japanese) and "Connections between People" ("people" is "hito" in Japanese).
Introduction of the Irise Arch internal communication app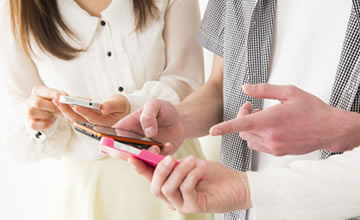 In order to improve employee satisfaction and foster greater communication within the company, HITOWA Care Service, a provider of nursing care services, developed and introduced Irise Arch, an internal communication app.
Not only does it share messages from the company with each and every employee, but it also provides functions for sharing and commenting on facility recreational activities, service ideas, building relationships with residents, and other activities conducted at facilities. It is being used as a communication tool for facilities and employees.
It also introduced a point system that employees' family members can also use with the aim of enriching employee benefits.
The app continues to be refined through development, such as adding new chat and video call functions, to make it more convenient and fun to use for every employee, thereby fostering better employee communications.
Club Activities
Since 2015, the HITOWA Group has supported employees' club activities to improve communication and provide employees with places to meet outside of workplace contexts. Clubs that meet certain requirements and are officially approved receive activity subsidies from their companies. The Group currently has many active clubs, such as baseball, golf, futsal, fishing, and musical band clubs, contributing to a broader range of communication between employees based on common interests.
Compliance Training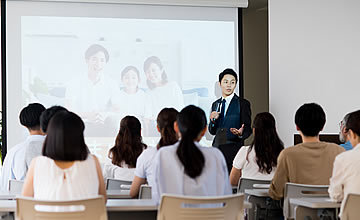 The HITOWA Group conducts compliance training for all employees so that they can engage in healthy and appropriate corporate management and business operations.
For new hires, both those who have just graduated and those in the middle of their careers, we provide training that gives participants a solid understanding of our basic rules and systems. For existing employees, we conduct training with a key theme each year, and we strive to foster a greater awareness of compliance.
By conducting training on an ongoing basis, we aim to become a company that earns the trust not only of its employees, but also of its customers, business partners, and all other stakeholders.